what your handbag says about you?
since i am so into handbags right now... somehow i found this article on the internet. no, i am not quite a branded person - as long as i like the handbag, i'll buy them. this year i have been buying handbags... err i dont know why... from brown, white (just for the party) and black.. which i bought recently. and i get bored easily so... i dont buy really expensive handbags.. err why am i telling you all these? duhh.... :P

but... read on...

from: http://shopping.aol.com/articles/2008/05/15/what-your-handbag-says-about-you/

Whether you carry only a credit card in your clutch or you fill your purse with everything from a passport to an extra pair of pumps, the type of handbag you choose to sling over your shoulder speaks to your personality. 22% of women would splurge on a handbag if they could only choose one luxury item, so before you start spending, check out these personality traits to find out what your handbag says about you before you ever say a word.
The Briefcase/Purse Combo
Bag Behavior: Carrying only one functional yet fashionable bag is a sign of intelligence and ability to multi-task. You're professional (hence the briefcase) and organized.
Perfect Personality Pick: Kenneth Cole Briefcase
Handbag Hint: To keep leather soft on bags and briefcases, apply treatments and protectors when they are brand new and every month afterwards.
The Photo Bag

Bag Behavior: You are family and friend-oriented and you love showing off the people (or pets) closest to you. You value security and close relationships and your photo bag offers this comfort, even when you're by yourself. Kathryn Eisman, author of "How to Tell a Woman by Her Handbag" considers people who have unusual purses like photo bags to be emotional and sentimental.
Perfect Personality Pick: Classic Custom Photo Purse
Handbag Hint: Your photo bag probably isn't your main bag, so consider buying handbag liners so you can just remove all of your photo bag's contents and put them into your bag-of-the-day in one easy swoop.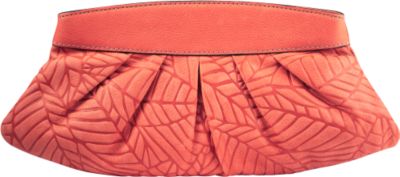 The Clutch
Bag Behavior: You're confident enough to survive the day without your entire life by your side and you are capable of streamlining, which is a fantastic personality trait. You are a back-to-basics girl who knows exactly what she needs out of life.
Perfect Personality Pick: Geneva Embossed Clutch at Fossil.com
Handbag Hint: Store your clutches and other purses upright and not on top of each other so they won't lose shape.
The Monogrammed Tote

Bag Behavior: You're proud of who you are, you're comfortable with yourself and you are open to the world about who you are. It's usually easy to pick you and your one-of-a-kind bag out of a crowd.
Perfect Personality Pick: Eddie Bauer's Ripstop Canvas Tote
Handbag Hint: Totes usually have no closure and can easily tip over, so keep your valuables in the zippered compartments.
The Brand Bag
Bag Behavior: You like the finer things in life and you want people to know it. You're someone who is 'fabulous' and you know that certain brands enhance your image and upscale personality.
Perfect Personality Pick: The Hermes Birkin Bag is the pinnacle of branded bags.
Handbag Hint: Brand-name bags can be expensive and household insurance policies often don't cover expensive purses. Look into bag insurance with your household insurance and with independent companies.
The Eco-Friendly Tote

Bag Behavior: You care about your surroundings and the environment and you look for ways to spread the word about your endeavors and to inspire others. You're trendy and enjoy being first on fashion bandwagons, too.
Perfect Personality Pick: Any eco-friendly tote is fine with you, as long as it's environmentally friendly.
Handbag Hint: Hang-dry cloth totes after washing. Not only is it better for the environment but it is also better for the bag.
The Backpack
Bag Behavior: You're casual and health-conscious – you know how damaging a heavy bag can be for your shoulder. You put comfort over style and move quickly and efficiently.
Perfect Personality Pick: High Sierra Urban Compu-Pack
Handbag Hint: The best backpacks come equipped with a lifetime guarantee, so look for this detail when purchasing.
The Oversized Bag

Bag Behavior: You're stylish but refuse to do without your needs. You're often on-the-go, swiftly, sexily, and sassily making your way through your equally as oversized to-do list. Be careful, though – the average woman's handbag is six pounds. Much more weight than that and you'll have a sore shoulder.
Perfect Personality Pick: Pietro Alessandro Oversized Foldover Satchel
Handbag Hint: Take care of large bags, which are prone to spills and pen stains, by storing them in their original dust bags or a pillowcase when not in use.
The Shoulder Bag
Bag Behavior: You're sensible and practical. You don't want to overdo with an oversized bag but you wouldn't feel comfortable downgrading to a clutch for your everyday bag. You're a middle-of-the-road, even-keeled decision maker, too.
Perfect Personality Pick: Isaac Mizrahi Small Shoulder Flap Bag at Target.com
Handbag Hint: Shoulder bags can go anywhere, so pick one in a neutral color that will match as many outfits as possible.
The Bejeweled Bag

Bag Behavior: You love being noticed, and "bling" certainly helps you to achieve that goal. While nighttime pocketbook jewels are more common, ladies who step out in sunshine with shiny purses are confident and fun to be around (and shop with).
Perfect Personality Pick: Kathy Van Zeeland Topaz Stone Age Shopper
Handbag Hint: To avoid scratching the bag's decorative outside jewels, store the handle inside of your bag if it is made of chain.
The Wristlet
Bag Behavior: You are no-nonsense and ready for action. Active and fast-paced, a wristlet is a secure way of carrying your minimalist belongings as you zoom through life.
Perfect Personality Pick: Michael Kors Ranger Patent Leather Wristlet
Handbag Hint: When you need a larger purse, use the wristlet as a wallet.
errr... does that means every women should have every type of handbags?? :O oh well, i belong to:
the back pack
the monogrammed tote
and now learning ... the oversized bag.. heheheh :D